Dedicated to the contents of my blog, I've decided to write this post after deciding on what to write.
Firstly, I love Apple!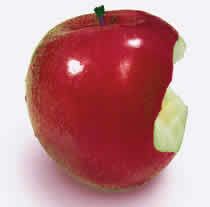 No not that apple... I just ate that one. :P I'm talking about
Apple
. And it's not just about any other Apple products, but the main reason for this blog, the
iPod Touch
.
Now take a good look at the iPod Touch...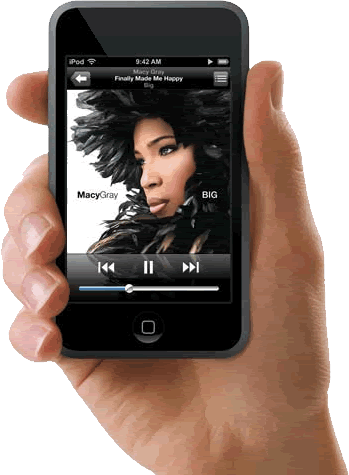 Since day 1 I had this beauty in my hands, I didn't let it go not even a single day. Honestly, I just couldn't part with it. No iPod, no life... So let me just brief you through the key features that this baby is packed with.
- 3.5 inch display, perfect for videos
- 480-by-320 pixel resolution
-
CoverFlow
-
Wifi
-
Full Touchscreen with multi-touch
-
YouTube application
-
Full HTML browser
(though without Flash support)
-
Accelerometer
- Lightweight and slim!
- Download music via iTunes
- and lots more!
However, if you want to get the most out of you iPod Touch, you'll need to perform some hacking and installing 3rd party programs, BUT I WON'T ENDORSE THAT! The iPod Touch on it's own is already feature pack, and with 8GB (now up to 32GB!) of storage, you'll never run out of disk space for all your media needs.
The new iPod Touch (updated firmware) now comes with additional features. Here are some of them.
- additional widgets, such as Google Maps, Mail, Weather, Stock and Notes.
-
customisable Home Screen
(wiggling feature)
-
Bookmarklets
(saving bookmarks in Home Screen)
And the most anticipated application that's coming soon is the
AppStore
, after the release of the
3G iPhone
. But I shall not touch onto that in this post.
Ehem... back to my topic...
With rated battery life of
22 hours for music
and
5 hours of videos
, you'll never have to worry about charging so often. As for me, I use my iPod Touch mainly for music, and it lasted me for a week! That's because my average use per day is around 2 hours of music. I never have to charge until it goes flat.
So still haven't gotten your iPod Touch yet? Not to worry...
If you're a student, you can get yours for free! ***
*** with purchase of another Apple product... :)
Interested?
Check out this link to find out more.
How to get your free iPod.

1. Shop for a Mac.

Shop the Apple Online Store
or call 1-800-MY-APPLE.
Find your favorite Apple Retail Store or Apple Authorized Campus Store.

2. Buy an iPod.

Purchase an 8GB iPod touch or an 8GB iPod nano with your Mac and qualify for a rebate of up to $299.*

3. Get your rebate.

After you receive your Mac and iPod, submit your claim online by October 15, 2008. Once your claim has been submitted, check your rebate status at any time.

And it's that easy!
So what are you waiting for? Head over to
http://store.apple.com/sg/
and check out their cool products and offers.